I am reposting this for my friend Anne who is doing a WONDERFUL thing. So far me and 15 others have pledges our work to make a collaboration kit to raise money for this wonderful organization. We need ALL the help we can get....Please read on to read about Anne and her Courageous and thoughtful daughter.


This kit has a Tropical Fish theme and still need a name...
Please comment on Anne's Blog if you have an idea for the name of the kit.


Read the full story HERE on Anne's blog.....
I sure hope you will join us!

*******************************************************************

From Anne's Blog (Creative Dreams)

Ok, so here's the deal...
My daughter is having her final surgery (in a long string of surgeries) to correct her scoliosis this summer. She was born with scoliosis and a couple of years ago it started to progress rapidly, so they inserted rods into her back that straightened her spine but still allowed her to grow. Now that her lungs are done growing she can have her permanent rods put in, and her spine fused into the corrected position.
Since nearly the begriming of her ordeal she's been a patient at Shriners Hospital in Chicago. I can't begin to tell you how thankful we are for the Shriners because we would never have been able to afford her treatment otherwise.
If you're not familiar with Shriners hospitals, let me tell you a bit about them. Children are accepted into their care based entirely on medical need and if they can be successfully treated. Income, race, and nationality have no part of the decision making process. Once a child is accepted into their program, EVERYTHING is taken care of. All medical bills and even transportation is covered by the Shriners; they even provide tutors if children will be out of school for more than four weeks. They take care of everything you can possibly think of and more, so that children and their families don't have any additional stress during an already stressful time. They manage all of this with donations from area Shrines and other sources.
Shriners is such a great place, not only do they treat all of the kids free of charge, but they make their stay as pleasant as they possibly can. Tiana actually loves it there, not so much the doctoring part of it, but everything else. They have a recreational therapy department that plans activities for the kids twice a day, a craft in the morning and then something else in the evening, and the doctors won't schedule any treatments during that time so all of the kids can play.
Since Tiana's been a patient there I've always tried to give back a little of what they've given us by organizing donation drives for the recreational therapy department. Usually I ask for craft supplies to be donated, but Tiana had a different idea for me this year...
I showed her the start of a tropical fish digi kit I was making for her yesterday. She has a thing for Finding Nemo because she has a small left arm and hand and she associates with Nemo's little fin. She was really excited about the kit so I asked her what we should do with it when it was finished. I told her I could put it in my store and that I'd give her the money from the sales so she could get new books for when she was recovering, or we could share the love and give it away as a freebie, or that she could keep it all to herself as an exclusive thing if she wanted. I told her it was her kit though, and that the decision was totally up to her.
My sweetheart thought it over and said that she wanted the kit to go in the store, but that she didn't want the money. She wants all of the money to go to the recreational therapy department at Shriners Chicago so that all of the patients there can have some new things to play with. I thought that was a great idea, and I'm so proud of my girl for thinking of it!
After she went to bed last night I got to thinking, why not open it up to other designers and make a mega kit? The additional pieces would raise the value as well as giving it more publicity, and I know a lot of people really enjoy designing for a cause.
So... If you'd like to contribute to this charity kit, here's the palette we're using: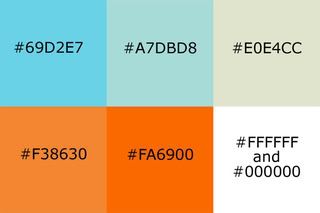 All kits should have a tropical fish theme, this is especially fun because Shriners Chicago is decorated with fish and they have a few big saltwater tanks with fish in them for the kids to enjoy! You're welcome to add more colors to the palette to color your elements but they should be accent colors only. Feel free to make whatever you enjoy making. Alphas, elements, papers or full kits, it's totally up to you!
Just complete your portion by July 1st and then send me an email (anne @ creative-dreams.net - no spaces) with a link to download your contribution. All files included in your zips should be prefaced by your name or initials, including your TOU, credits and preview so that they're not overwritten if extracted into a shared folder. Please do not put spaces in your file names, but use underscores instead. Additionally, all files must be saved at 300ppi, in jpg or png format. My assistant will compile all of the portions into one big kit, and put it up for sale in my store on July 15th.
Every participating designer will get the entire kit for free!
If you own a store and would be interested in stocking the kit for charity, please contact me for more information.
If you have any questions, problems or concerns, just let me know.
Thanks so much, I know this is going to be a wonderful opportunity to give back to an organization that has given so much to so many!
P.S. This kit doesn't have a name yet, and I'm open to suggestions. If you have any ideas let me know, I'll run them past Tiana who will have the final choice.